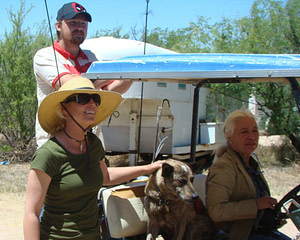 J-6 Ranch Equestrian Center is the premier family owned boarding, training, rehabilitation, and lesson facility in Southern Arizona.
Located conveniently off I-10 the 13 acre facility is only 25 minutes from downtown Tucson, 30 minutes from Sierra Vista/Ft. Huachuca, and 20 minutes from Pima County Fairgrounds. J-Six has a range of Boarding options available, all include premium care by attentive, loving and experienced staff, trainers and interns.
For the absent owners, J-Six offers specialized care that is individualized to the horses needs, to ensure they are in their best physical and mental health.
In addition to the wide array of weekly lessons offered in multiple disciplines, we also host many educational and fun activities for riders of all ages and disciplines. Our saddle club goes on fun and safe monthly off-site trail rides, has monthly educational pot-luck dinners featuring guest speakers, and competitively priced clinics.
J-6 offers the opportunity to join our show team, which competes in multiple disciplines year round in a competitively fun group!
With on-site trainers, we can cater to any of your needs whether it be a colt starter and finisher, or if you're looking to go into the show ring or down the trail. Our trainers are highly skilled at problem solving, be it behavioral or rehabilitation related.
Our trainers are also available for lessons during the week and weekend. We work with beginner to advanced riders in all disciplines, and also timid/unconditioned/seasoned riders with lesson horses available.
Exercise riders are also available, to help you keep your horses in shape on those weeks you can't visit as often as you'd like!
Equine rehabilitation services are also available, with an equine treadmill and hotwalker on-site, three massage therapists, a equine nutritionist and Katherine Calkins available to create: Comprehensive, thoughtful, progressive rehab/conditioning for: Tendon injuries, joint injuries, emotional/trust issues, weight gain/loss, older/geriatric horse, under/unconditioned horse, hoof injury, muscle tears/sprains/strains/injuries, pinched nerves, pain control/pain management
1933
John G. F. "Jack" Speiden (March 4, 1900 ? July 30, 1970) was an American stockbroker and ranch owner. Speiden fought in both World Wars, attended Yale and received a letter for football while playing on the hockey team, taught in China, worked on Wall Street, and bought a ranch.[1] He ran for Congress for the 2nd District of Arizona in 1956[2] and 1958,[3] defeated by Stewart Udall both times.
A chance meeting with Arthur Brisbane, the famous Hearst newspaper editor, in the spring of 1933, convinced him that he should make the American west his home. Brisbane told young Speiden that the country was rounding out the bottom of a business cycle and the smart thing to do was to invest in land commodities. Speiden took the advice which subsequently proved sound.
He acquired a small registered herd of 60 cows which, with the aid of one cowboy, he ran as part of the 76 Ranch in Cochise County. He concurrently embarked on course of self-education. Speiden read every available book on animal husbandry and was greatly helped by the excellent Animal Husbandry Department of the University of Arizona. After several years of solid study along with practical experience, Speiden purchased what is now known as the Jay-Six Ranch near Benson, Arizona.
When Speiden took possession of the ranch it was carrying upwards of 1000 head.At the ranch's peak, he had one of the most representative herds in the country.
Speiden's passion for the improvement of breed carried into the quarter horse field, but on a much smaller scale. Again the emphasis was on quality. Although the venture was largely a hobby, it was obvious that a great amount of time went into selecting the best possible bloodlines. The results were gratifying as the Speiden colors were often first at the finish line.
1936
In 1936 he needed an adobe office built on his ranch and needed a couple of stout Irish lads as hod carriers. Any Mexican could build a fine adobe, but Speiden was lonesome for some snooty company from back east. What better place would there be than Boston to find a couple of unemployed Irishmen during the Great Depression? He took out a help wanted ad in the Boston Globe. His ad came to the attention of a fellow named Joe who had a couple of teenage sons, Joe Jr and John, who were making him crazy.
In the spring and summer of 1936, JFK's health deteriorated and it was decided that some time spent in the dry, clean air of western Arizona might improve his strength and stamina. A friend of Joe, Sr.'s suggested the J-Six ranch just west of Benson, Arizona as a possible location. The ranch was owned by former Wall Street banker John G. Speiden, who himself had come to eastern Arizona for health reasons in 1932 and was known as a gracious host for people looking for a "ranching" experience.
JFK, who was joined by his brother Joe at the ranch, spent his time mending fences, herding cattle, and building an adobe office on the ranch for Speiden, who dubbed it "the house that Jack built.
During his free time, Kennedy no doubt spent time talking to and hanging out with the colorful local cowboy Pete Haverty, who was known for his stories and missing left leg.
2010
With a passion for horses, and a love for the area, the Calkins family purchases J6 ranch with the dreams of continuing the J6 tradition of excellence.
J6 Equestrian Center was re- born!
Bringing this quiet boarding facility to life, continuing the work of the prior owners, has been a passion and today, J6 is proud of its Premier family owned boarding, training, rehabilitation and lesson facility featuring an array of accomplished trainers from many disciplines.
The "family" tradition is alive and well with many ranch events, shows, educational pot-luck dinners, and programs which cater to the wide variety of clients that call J6 "home", with a carefully cultivated family oriented environment that encourages all horse enthusiasts to pursue their own dreams to the peak of their passion!
2018
2018 marks a year of growth, both at the local facility and across the nation.
Recognized for their organization and management skills, the J6 crew is brought on to manage the Working Equitation portion of the Andalusian World Cup show in Las Vegas; A show which sets the standard internationally for it breed, dressage, and Working Equitation divisions.
Katherine and Samantha also expanded their outreach with the addition of offsite clinics across the United States.